Want to make a booking ?
Download our app
or
click

on the

"Data Cars" logo above

 
New Drivers'/Sub-Contractors & Driver Liaison: 020 8850 4444
Accounts: 020 8297 2700
Customer Service: 020 8850 6622 (not available for bookings)
Customer Service
Register Lost Property Click here
Register a Service Complaint Click here
EMAIL
For booking enquiries please email: bookings@datacars.com
Account queries: accounts@datacars.com
All other enquiries: mail@datacars.com
N.B. Drivers'/Sub-Contractors' wishing to email Data Cars, please email drivers@datacars.com
BY POST OR DELIVERIES
Data Cars Limited
94 Lee High Road
Lewisham, London SE13 5PT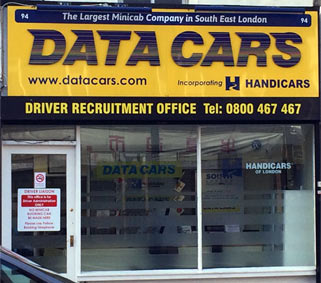 LEWISHAM LIAISON OFFICE
94 Lee High Road, Lewisham, London, SE13 5PT

SCAN ME!
Use this QR code to add Data Cars to your address book, so whenever you need to find South East London's largest hire fleet, we'll be right there.